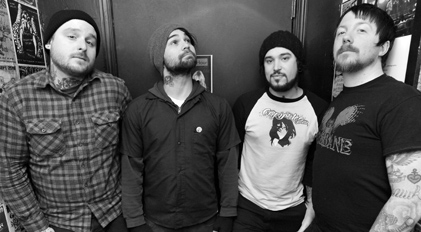 The Hollowpoints
Formed in 2001 by childhood friends Matty Mckinney, Benny Early, and Dan Colley, The Hollowpoints combine elements of punk and rock and roll reminiscent of apparent influences The Clash, Cock Sparrer, One Man Army, and Swingin' Utters.
They've pushed their hook based sing-alongs both domestically and abroad through constant touring, racking up releases with the "Annihilation EP" on Dirtnap Records (2003) and "The Black Spot" on Duane Peters' Disaster Records (2005).
Finding guitarist Will McCarthy Broad in 2007, they followed with "Old Haunts On The Horizon" on current label Sailor's Grave Records (2010). A punknews.org Editor's pick for Album Of The Year, "Old Haunts on the Horizon" was also released on German label Concrete Jungle Records.
Charging hard forward, "Rocket To Rainier" combines textbook Hollowpoints songwriting with the driving pace of "The Black Spot" and a more personal feel and subject matter, bringing you right back to the pop hooks of "Old Haunts On The Horizon." With bassist Benny Early taking on some lead vocal duties, the classic call and response Hollowpoints sound has taken on a brand new depth and dimension.
Recorded by Ryan Maxwell in Seattle and produced by The Hollowpoints, this new offering was mixed and mastered by heavyweight engineer Jamie McMann (NOFX, Good Riddance, Home Street Home). "Rocket To Rainier" is a somber manifesto—despite its catchy and upbeat sound, the record chronicles lives lost, lives nearly destroyed, and the long road back. It's without a doubt the band's most personal and earnest release, and a gut check to the human condition issued by a weary, yet eternally hopeful, band of brothers.
With new team member and long time friend Katie Perry of The Bucket City Agency handling US booking, The Hollowpoints will be on the road in support of "Rocket To Rainier."
For Fans Of: Swingin' Utters, Rancid, The Clash, Cock Sparrer